Season 12 of Murdoch Mysteries (formerly The Artful Detective on Ovation) comes back on Saturday, April 20, at 7PM ET! That's SIX Saturdays away, so we did a little historical detective work to give you a sneak peak of the season premiere. In this first episode, Detective Murdoch and Dr. Ogden visit their completed dream house for the first time. The famed architect Frank Lloyd Wright (1867–1959) designed this house and added a touch of his style in the interiors.
You'll even get to see the famed architect play a part in a murder investigation, with Downton Abbey's Sophie McShera appearing as Wright's associate,.
Wright is well known for structures all over the United States, from the Guggenheim Museum in New York City, a house with an iconic waterfall called Fallingwater in Mill Run, Pennsylvania, his personal house and studio in Oak Park, Illinois, to a residence for oil heiress Aline Barnsdall called Hollyhock House in Los Angeles. How does the Murdoch Home compare to Wright's other designs? Overall, it is a delight for its visual detail and the usual fun Murdoch gadgets!
Is the residence a Murdoch Mansion or a Murdoch House? Detective Murdoch and Dr. Ogden weigh in during the episode.
What are the details of Frank Lloyd Wright's signature style that you don't want to miss? You can find out in our guide below.
1. Exterior
Frank Lloyd Wright designed over 1,000 structures and completed over 500. While Wright didn't make it to a project in Toronto, Canada (where the Murdochs live), he was active in nearby American cities Buffalo, New York and Rochester, New York.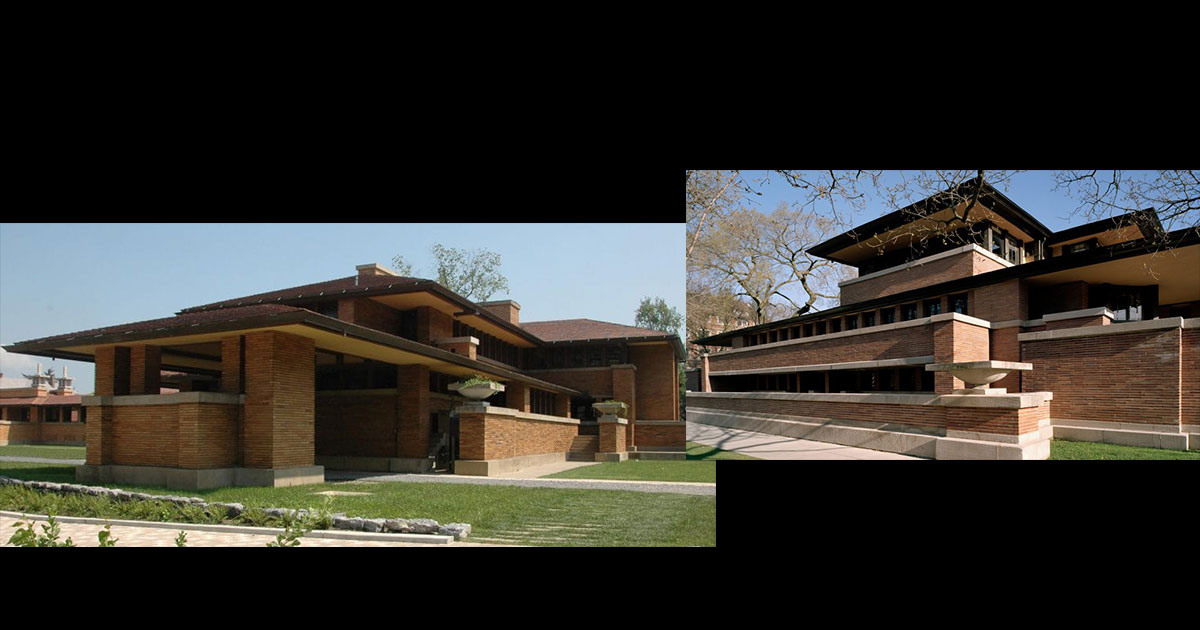 [left: Martin House Complex, right: Robie House, both by Frank Lloyd Wright]
We think the Murdoch house is most similar to the look and feel of the Martin House Complex in Buffalo, New York (1904) and the Robie House in Chicago, Illinois (1910). In all three houses, the emphasis is on the horizontal orientation: short bricks extend outwards; the roofs are low and flat; the houses look close to the ground. This attention to horizontal lines and planes make up Wright's Prairie House style.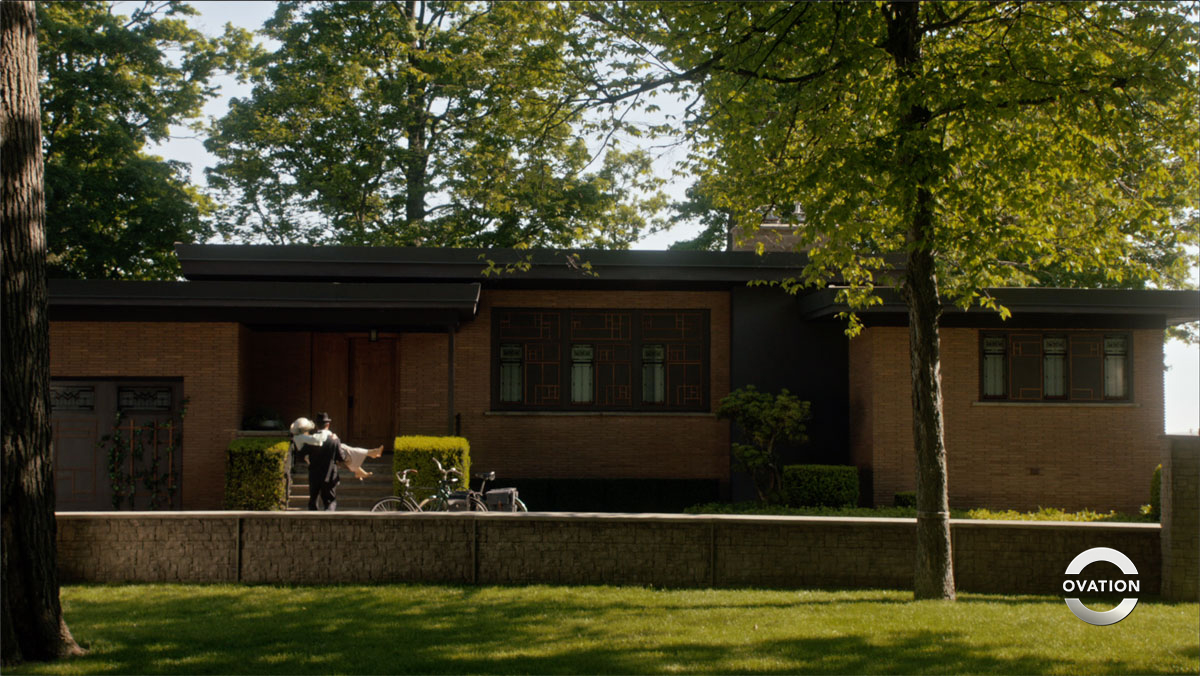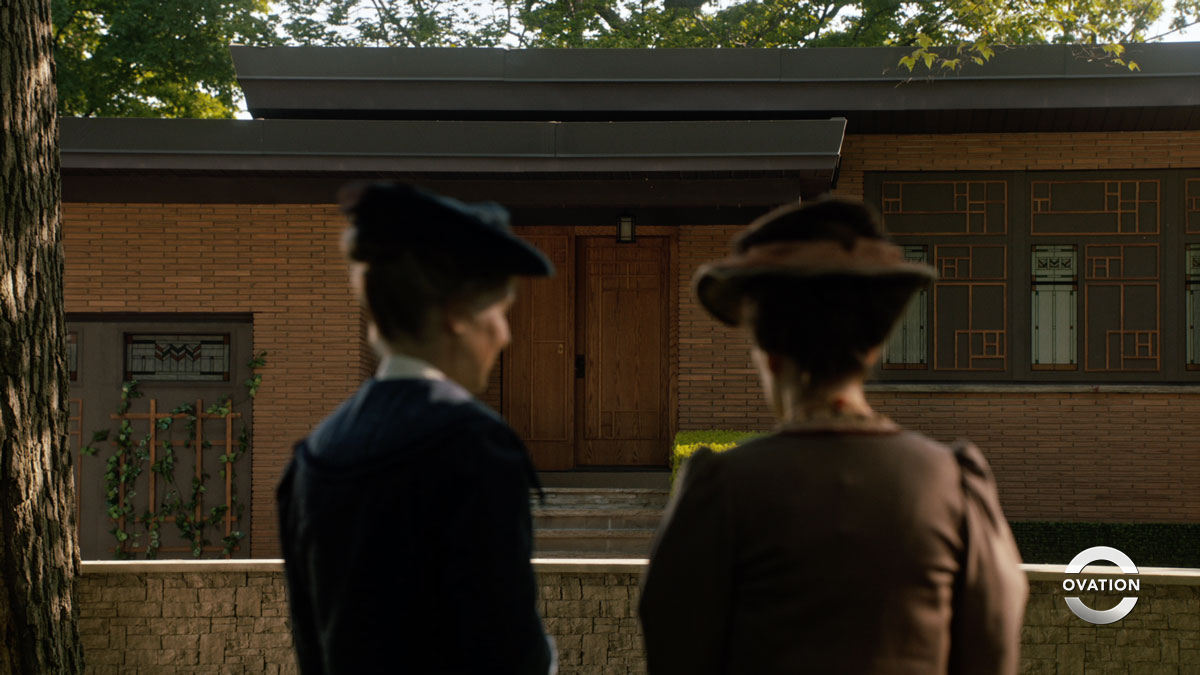 The Prairie style is one of the first modern architectural styles recognized as uniquely American rather than influenced by old Europe, and is inspired by the flat landscape of America's Midwest. Do you see other similarities between Murdoch's house and other Prairie style houses?
2. Figurine of Incan Sun God (Apu Inti)
Dr. Ogden refers to this gold-plated figurine in their living room as "Apu Inti." Inti refers to the sun god of the ancient Inca empire, the largest empire in the Americas from the early 13th century to the arrival of the Spanish in 1572. In Inca belief, the sun god had several manifestations, and Apu Inti refers to the "Lord Sun."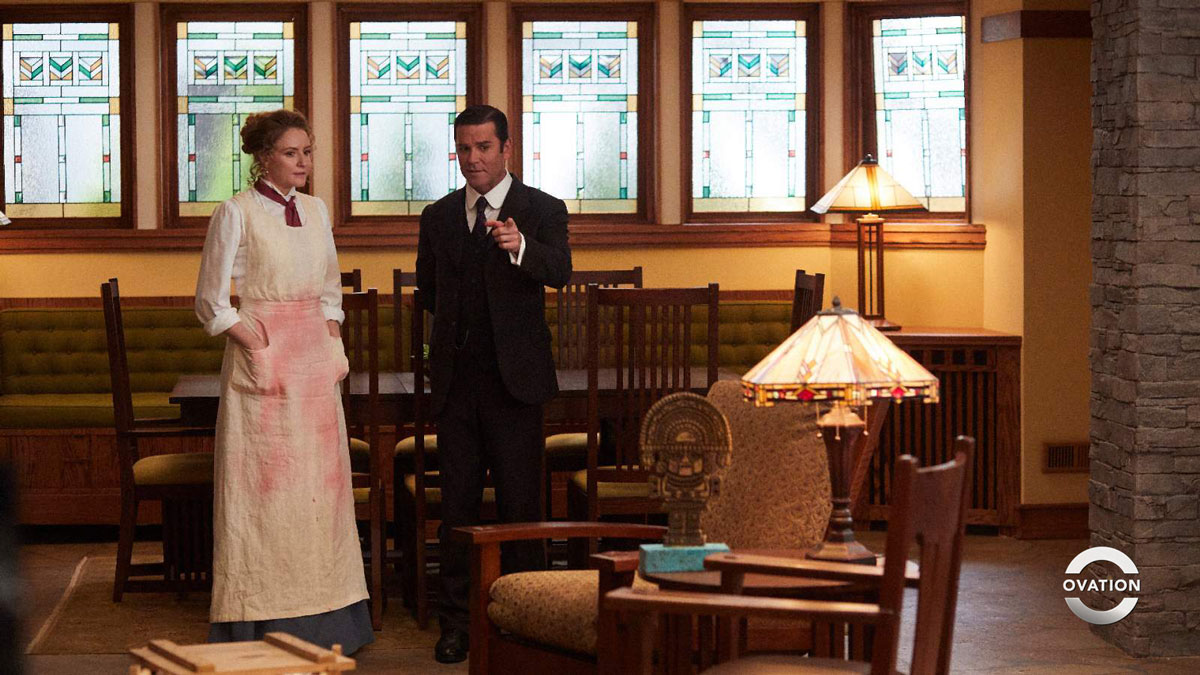 Inti was usually represented in human form, his face portrayed as a gold disk. The sculpture in the Murdoch's living room could very well be a representation of Apu Inti, since the figure has a round head wrapped in an ornate headpiece.
Why is the sculpture even mentioned? It's not far-fetched for this Inca statue to coincidentally land in a Wright-designed living room. The architect was curious about pre-Columbian cultures, including the Incas, from a young age.  
3. Plant-based designs on glass windows
Wright wanted his designs to work in harmony with its environment, and considered fixtures such as windows as part his architectural work. Wright embraced the transparency of glass. Glass allows you to see the outside from the inside, while protecting you from outdoor elements.
The geometric designs in Wright's stained glass windows and fixtures are based on plant colors and forms. The Murdoch's house certainly maintains the green, yellow, and orange hues as well as geometric patterns of flowers and leaves we normally see in Wright's glass creations.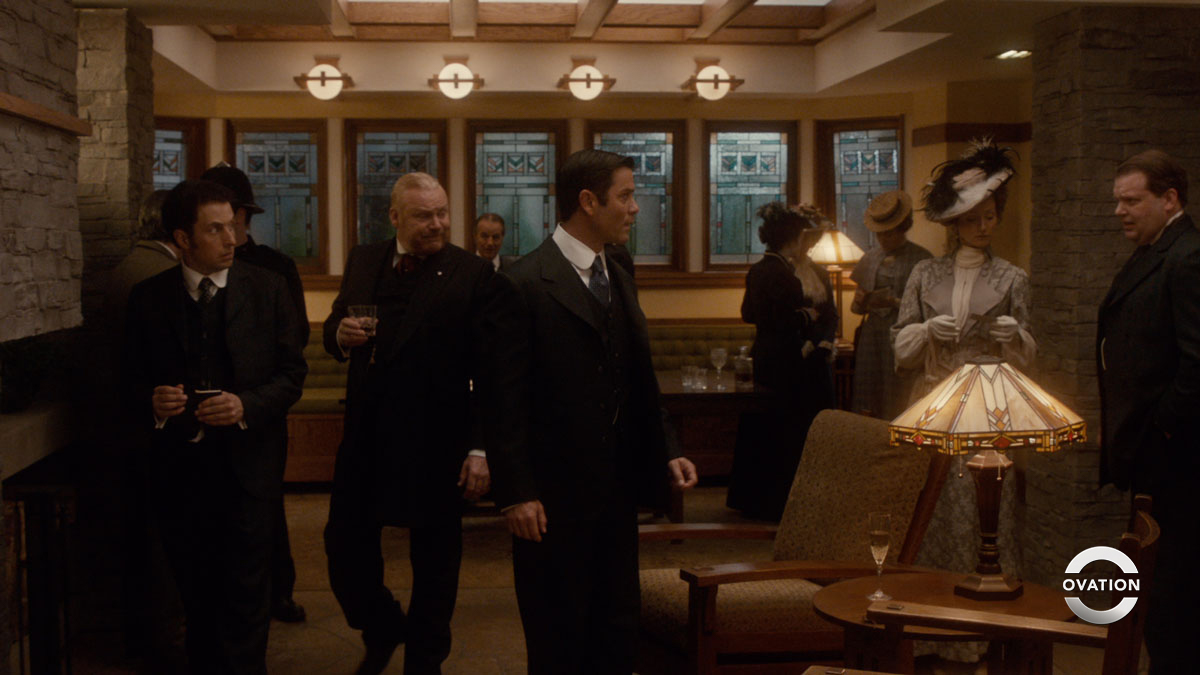 Detective Murdoch and Frank Lloyd Wright also have one special thing in common: they both enjoyed inventing and using new materials! Wright patented around 40 decorative patterns for the glass tile maker Luxfer Prism Company. Their prismatic glass claimed to provide light (from an oblique angle) to dark buildings before electricity was widespread and affordable.
4. Fun appliances
What would you probably not find in a Wright-designed house? A potato cooking room and a retractable bed! These were added by the production crew's art department as personal touches to the Murdoch house.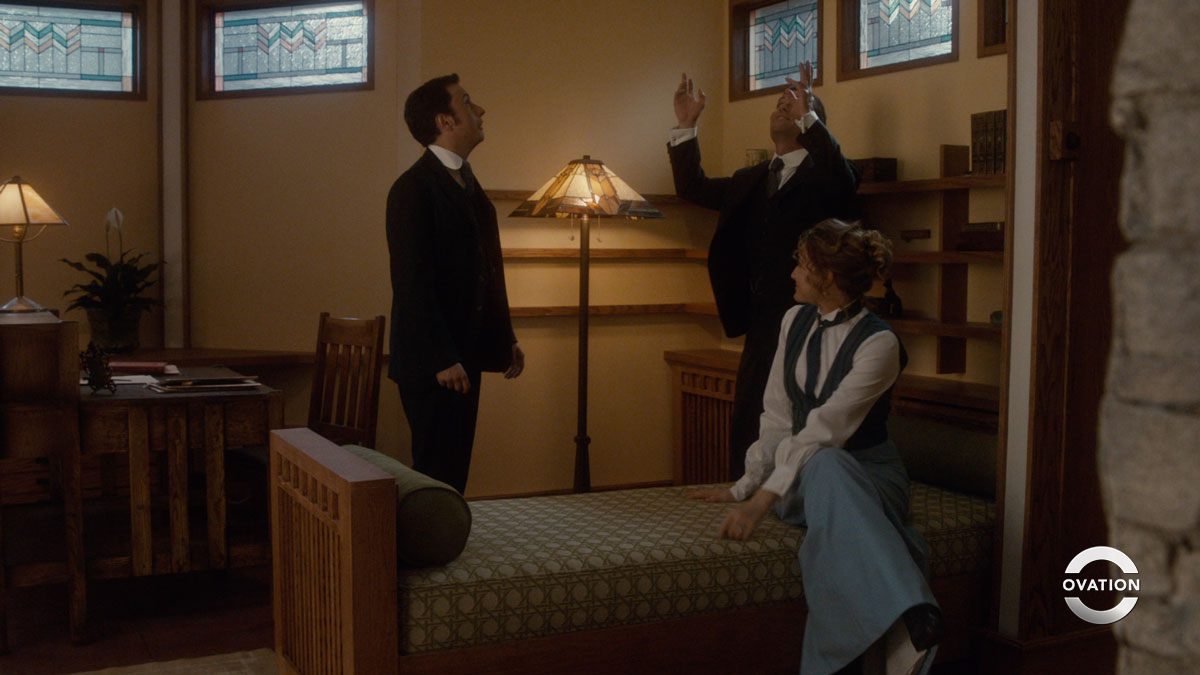 No cable login? Catch up on select Murdoch Mysteries episodes for free on Mystery Alley!